**IMPORTANT – In order to edit an Accommodation, the student must be in a "Needs Proctor" Status. The student CANNOT be in a "Scheduled" status.
1. Login to your LMS.
2. Once logged in, select the course for which you would like to set up an accommodation.
3. After selecting the course, select the Proctoring tab, viewable on the left-hand side of the page. Doing so, takes you into the Course Dashboard, to set up accommodations.
4. Click on the View Exam button on the lower right corner of the exam box.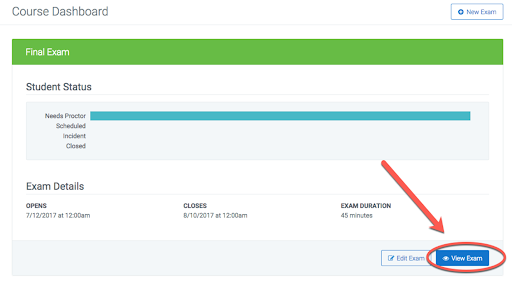 5. A new screen will appear. Scroll down to the Student Overview section. From the overview section, select the student you would like to view. Click the drop-down arrow under Select Action on the right side of the screen that corresponds to the student of choice. From that drop-down, choose Add Accommodation.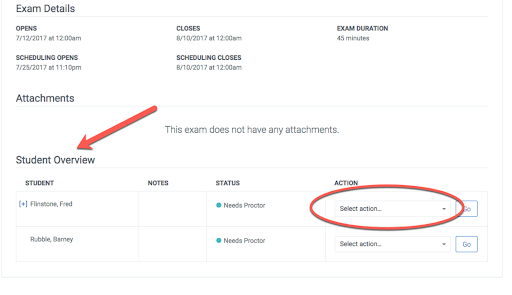 6. On the Accommodation page, fill in the necessary fields (required fields are marked with an asterisk (*)). After completing this page, click on the Continue box in the lower right corner.
If there are any questions as to what each field is/why it is included, hover your mouse over the (?) and an explanation box will pop up.
Any fields that are GRAY will not be editable, as it is locked information. Fields that are changed will be highlighted in Yellow.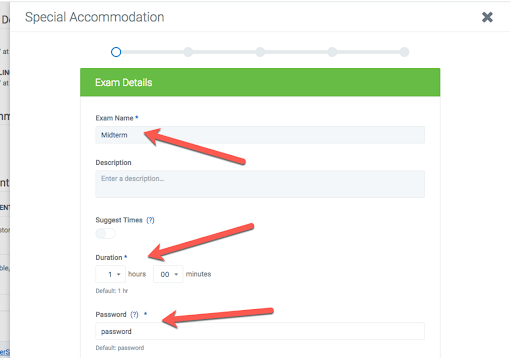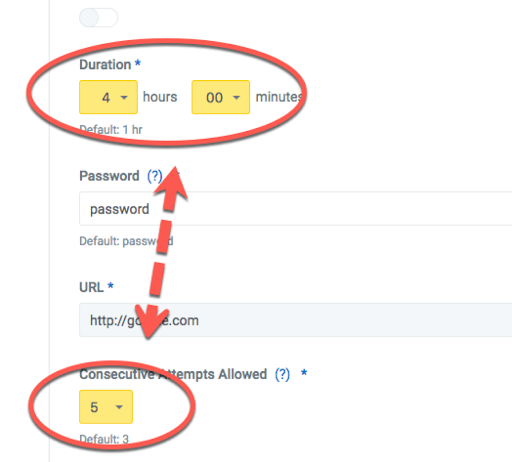 NOTES:
Any accommodations created will show up on the student overview page under the Notes section.

You can also edit previously created accommodations by selecting the Select Action drop-down and choosing Edit Accommodation.