The automated proctoring system has several permission settings that can be modified to provide the exact level of security required for a given exam. Each setting is listed below along with some details about what each does and does not do. Please ensure you consult the list below prior to setting up your exam
Enabling/Disabling
It is important to note that settings have two states, enabled or disabled. When the setting is enabled, meaning it will be applied/enforced for the given exam, the icon will be blue and there will be a green check in the box. When disabled the setting icon will be light grey, this means the setting will not be applied/enforced.

Below is a sample of a setting that is ENABLED (left) and DISABLED (right)
| | |
| --- | --- |
| | |
| Setting Enabled | Setting Disabled |
Definitions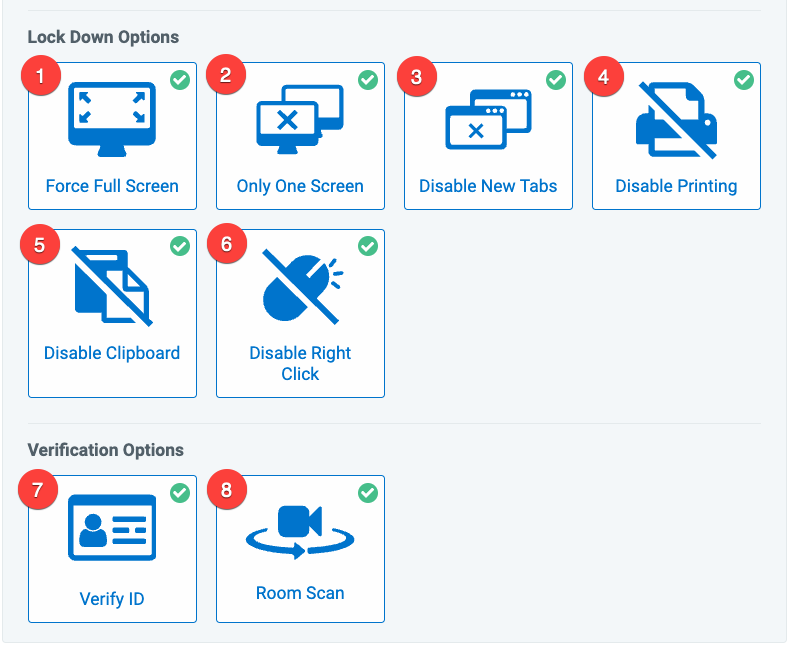 1 - Force Full Screen
The test-taker will be forced into full-screen so the browser is all they see on their screen. This does not actually lock the test-taker into the browser window. Since the solution uses a Chrome extension that is not possible. The automated system does however track if the test-taker moves off the browser window. In these cases, an annotation will be flagged in the session and can easily be reviewed to see if the integrity of the exam was compromised.
2 - Only One Screen
The test-taker will be asked to disconnect any external monitors so they are only testing with a single screen. The screen recording will only record one screen, so if the test-taker has multiple screens it should be understood that only one will be recorded.
3 - Disable New Tabs
Will not permit new tabs from opening in the browser. If the test-taker attempts to open a new tab it will be automatically closed. Additionally, this also closes other tabs the test-taker has open when starting their proctoring session.
4 - Disable Printing
If the test-taker attempts to print, the page will show up completely white. The printer dialog will still appear as normal and the test-taker can technically click the print button - but no content will be printed on the page.
5 - Disable Clipboard
Clears the current contents of the clipboard and disables the use of all clipboard functions. This includes both interaction from the context menu as well as keyboard shortcuts.
6 - Disable Right Click
Does not permit right-clicking to open the standard context menu.
7 - Verify ID
When the test-taker is going through the onboarding process their ID will be verified. This is done by asking them to show their government-issued ID card.
8 - Room Scan
Prompts the test-taker to do a 360-degree scan of the room during the onboarding process. Since the test-takers are on computers it is impossible to ensure they fully scanned the room. For this reason, the accuracy of the scan is left to the student.