The automated proctoring system will need access to your camera and microphone in order to properly run the session. In some cases, your browser or operating system may be set to block access to the camera and microphone. Alternatively, another program on your computer may currently have access to your camera which will prevent Google Chrome from taking control of it. The following steps will assist you with updating your permissions which will allow the system to access the required hardware if an error does occur.


Error Message
When attempting to start your exam, the following "Whoops!" message will appear if the automated system cannot properly gain access to your camera and/or microphone.

Resolution


Before Troubleshooting
Automated Proctoring does NOT work with software that connects your phone's camera to your computer. Instead, it works with dedicated built-in and external webcams.
Also, please check to see if there is an updated version of Google Chrome other than the one currently installed on your computer. Many errors can be corrected by ensuring that Chrome is up-to-date. To update your copy of Google Chrome, navigate to chrome://settings/help and follow the prompts to complete the update.


Granting access within Chrome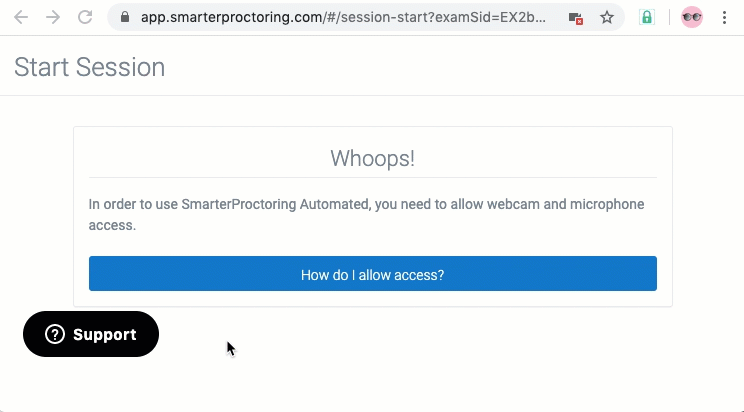 Steps to follow
Click the lock icon to open the connection settings.
Locate the Camera setting and select the Allow option.
Locate the Microphone setting and select the Allow option.
Close out of the settings dialog by clicking the x in the upper right or by just clicking away from it.
A notice will appear prompting the page to be reloaded. Click the Reload button to reload the page. Another option is to use the reload button or process you typically use to reload a page.
Further details regarding these settings can be found in the Google Chrome Help Center.
Granting Access within Windows or macOS
If granting access in Chrome doesn't resolve the problem or if access was already granted, please proceed to the following steps to make sure that your operating system has allowed Chrome access to the camera.
Steps to follow
If you have a Mac with macOS 10.14 or later follow the steps in the guide here.
If you have a PC running Windows 10 follow the steps in the guide here

.

If the troubleshooting steps listed above have not resolved the issue please reach out to our support team by emailing: support@smarterproctoring.com or clicking on the

icon at the bottom of your screen.